News
End of summer bummer; E. coli closes Silver Beach; high waves delay retesting Herald Palladium, August 28, 2019
SustainabiliME Better Beaches Podcast Now Available sustainabiliME, July 22, 2019
Website promotes cleaner water, better beaches Herald Palladium, July 5, 2019
Warren Dunes, Weko Beach, Cherry Beach water off-limits due to E. coli Herald Palladium, June 25, 2019
Sewer line break closes Cherry Beach Herald Palladium, June 20, 2019
Berrien County won't be doing rapid beach water testing this year Herald Palladium, June 6, 2019
Featured Article
Trained Dogs Find Sources of Contamination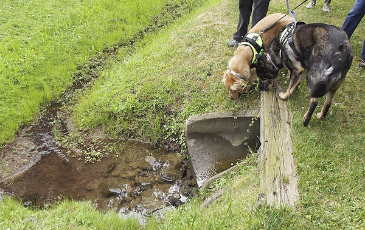 BRIDGMAN—The search for how human waste is ending up in Lake Michigan got a little help this week from two four-legged "detectives."
Kenna, a golden retriever, and Sable, a German shepherd mix, from Environmental Canine Services in East Lansing and Maine are sniffing out the sources of the waste in several small streams between Stevensville and the Indiana line.
Human waste getting into Lake Michigan causes beaches to be closed due to high E. coli counts, said Marcy Hamilton, senior planner with the planning commission. She said the main sources are usually failing septic systems or broken sewer pipes. She said of the 18 water samples sent to the dogs in East Lansing a few weeks ago, six came back positive for human waste. She said the next step is to bring the dogs to the site to try to track down the specific sources.
For Teachers and Kids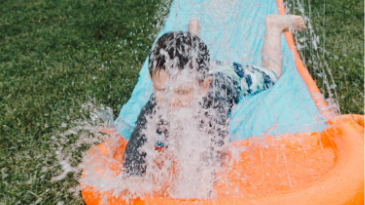 Water on the Go
The Cranbrook Science Center offers free programs about Great Lakes watersheds at school sites.
Teaching with Great Lakes Data
Provides water-related data sets, teaching suggestions and ready­to-go lessons about weather, hydrology, and dead zones. The activities develop higher-level thinking and science process skills.
An Introduction to Michigan Watersheds for Teachers, Students and Residents
Michigan Environmental Education Curriculum
Includes a series of online visuals and tutorials about water, watersheds, and environmental issues.
Thanks to our Project Partners
Project partners along with support from the cities, villages, and townships, are identifying sources of water pollution and working on solutions to reduce pollutants entering our streams, inland lakes, and Lake Michigan.
Southwest Michigan Planning Commission —Wrote the watershed management plan and coordinates project partners and local units of government to develop and implement solutions to reduce pollution.
Berrien County Health Department —Conducts a summer beach testing program to determine if beaches are safe for swimming.
The Pokagon Fund —Provided local match funding to develop the watershed management plan and conduct outreach and education.
Great Lakes Scientific —Assisted with E. coli testing, understanding results and finding solutions.
Chikaming Open Lands —Developed a prioritized list of properties for protecting water resources to guide future land protection efforts.